Imagine that you could understand the unique inner road map that you alone hold

for aligning with your highest potential

,

healing old wounds,

and recovering essential parts of yourself.

Intuitive energy healing excels at uncovering the interpretations each individual gives to life's

traumatic events that can lead to chronic illness and toxic conditions… (see Services & Offerings)


What do you most need…


Intuitive healing sessions, a speaker & ceremony, or

classes to awaken your creative juices?
Healing occurs by growing a reverence for the sacredness of all life  ̶  plants, animals, and yes, even your own. That's why my focus is always on how we can nourish and support your way back to health rather than create a battle ground.

Given that food is ultimately our first medicine, I've also discovered we glean even greater nourishment by bringing gratitude with intention and attention to the act of eating and the preparation of food. Joining my work of over 20 years in the Healing Arts with over 35 years of cooking experience has brought me to a renewed understanding of our place in the web of life and consequently the birth of my new book-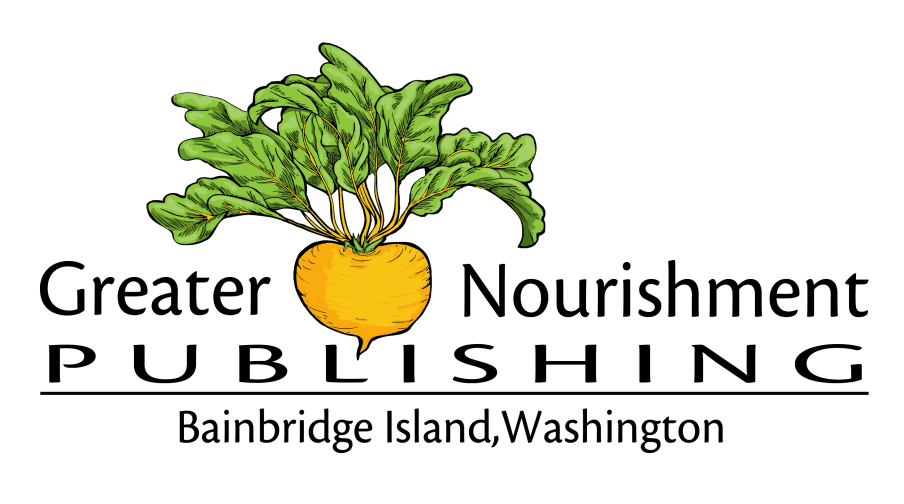 Welcome to Greater Nourishment Publishing, the publishing company of Seasoned with Gratitude: 250 Recipes & Blessings Celebrating the Greater Nourishment of Real Food.
Greater Nourishment Publishing is dedicated to educating and inspiring individuals who are ready to take their enjoyment of life to a new level of consciousness. By exploring our relationship with plants and animals, as well as the Divine One deep within, we can activate transformation in our own self-evolution.
Preparing food from vibrant, seasonal ingredients not only nourishes us at the highest level, it also takes the chore out of cooking and helps to build the creative spirit within us.
Seasoned with Gratitude includes a wealth of whole-food recipes, from breakfasts through desserts, each accompanied by a blessing or teaching of gratitude. You'll discover relationships between the energy of a plant or animal and ourselves;
explore nutritional benefits that renew health and wholeness; and learn about sustainable food sources while avoiding marketing myths about food.
Seasoned with Gratitude: 250 Recipes & Blessings encourages a return to remembering the sacredness of life, and to honoring the earth and all her inhabitants. You'll be reminded that to eat is the everyday necessity that insists that life and death meet one another in order for nourishment to take place, and that we are all participants in this transformation—that no food comes to us without this conversation occurring.
My experiences as a chef, caterer, herbalist, homemaker, intuitive healer, and health coach have given me a unique perspective that I hope will inspire a renewed interest in cooking and gratitude for all that is given.
Praise for Seasoned with Gratitude
How would we act if we knew the most sacred room in the house was the kitchen? Kathryn Lafond answers this question in her marvelous book, Seasoned with Gratitude. The result is a delicious blend of the sacred and the savory—a cook's book complementing recipes with meditations, folk wisdom with current scientific research, to expand the meaning of our holistic relationship to food. I'm planning to make a place for it on my bookshelf between Laurel's Kitchen and The Omnivore's Dilemma, and I suspect you'll want to as well!
Kathryn Lafond's Seasoned with Gratitude is not only a terrific cookbook filled with nutritious, healthy, and beautiful recipes, it's a journey that reminds us to connect with the foods we eat in a deeper and more meaningful way—and it teaches us that the very act of cooking is an honor to engage in and something that can heal and balance us. "In today's world, when days often pass at the speed of light, there are few things more soul-comforting than cooking a meal for ourselves and our loved ones. As Kathryn so aptly puts it: 'My entire being cooks—my hands, my heart, my senses, and my spiritual nature.' This is something all of us who cook can aspire to.
Seasoned with Gratitude is a magnificent collection of recipes, but it is much more as well—a celebration of the alchemy of cooking and the magic of nutrition, of life itself.
Seasoned with Gratitude is a rare and exceptional culinary book. Love and beauty permeate this book so that the mouth-watering recipes and sacred blessings not only delight the palate but also nourish the body and nurture the soul. A truly unique book!
Seasoned with Gratitude is a sensuous and spiritual treat—thanks to Lafond's reverence for food, cooking, eating, and the relationship between these three and what she calls "The Great Mystery." Along with each recipe, she offers "blessings of gratitude and connection," including this traditional Sufi blessing: "May this food nourish not only my body but my soul." Seasoned with Gratitude is the best guide I know to make that happen!
Readers need look no further for a comprehensive cookbook returning us to a simple truth: love is metabolized in every cell of the body." Seasoned with Gratitude connects readers back to this truth and the source of our earthbound nutrition—ingredients grown locally, sustainably harvested, and raised ethically. I would send our next generation off to college with this complete and nourishing cookbook, gift it to someone recovering from illness, and recommend it to anyone interested in a sustainable and renewable earth.
We know that food is sacred and that when we prepare meals with love we are infusing physical nourishment with metaphysical substance, but hectic schedules and spiritual forgetfulness make it challenging to match up our intentions with action. In Seasoned with Gratitude, Kathryn Lafond offers an array of scrumptious recipes with an equally delectable menu of blessings, prayers, and practices to help elevate and integrate body, heart, and soul.